Wisdom Teeth Removal in Inner West Sydney
At Your Smile Centre, our highly trained family dentists offer complete wisdom tooth care and extraction services. Our modern practice offers the latest technology and techniques to care for your whole family. Wisdom teeth removal is one of the most common extractions performed.
The Wisdom Tooth Appointment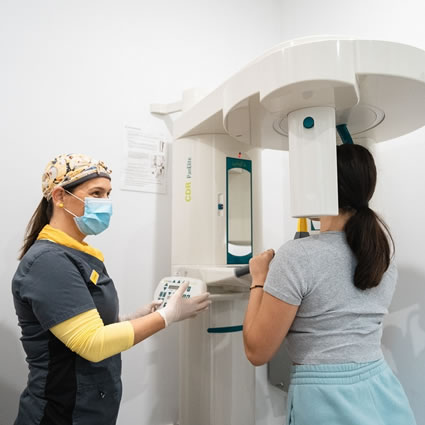 Before making any decisions about the future of your third molars, we will take a large OPG X-ray to assess the development of your wisdom teeth. This image will show their growth, location and how they are positioned in relation to your facial nerves.
After a comprehensive examination, we may recommend removing your wisdom teeth if they are complicating your overall oral health. Here are some of the reasons why an extraction may be recommended:
Pressure that causes your teeth to crowd together
Partial eruption, allowing food debris and plaque to collect in areas that cannot be cleaned with a toothbrush or floss
Damage to the adjacent teeth
Infection, decay or cysts around the wisdom tooth
Facial swelling, discomfort or pain
If you feel you would like to have your wisdom teeth extracted due to any possible health concerns, we will make your oral surgery as comfortable as possible.
Frequently Asked Questions
What If I Don't Want an Extraction?
Please rest assured that our understanding dentists will never try to convince you into having a surgery that you do not want. We simply aim to provide you with the tools and resources necessary to make an informed decision about the health of your smile.
We explain each step of the procedure to you so that you can feel comfortable about your decision to have your wisdom teeth pulled. During the surgery, we will thoroughly numb the area to ensure that you are never in pain. If you prefer to sleep during the procedure we will arrange IV sedation for you to ease your anxiety.
Which teeth at the back of my mouth are my wisdom teeth?
The third and final set of molars that erupt are typically referred to as the "wisdom teeth." We can show these on your next checkup with us.
I'm nervous about going to the dentist. How do you cater to anxious patients?
At Your Smile Centre
, our highly experienced team have worked with even the most nervous patients of all ages. We take care in having a gentle approach to dentistry and will explain the process thoroughly along the way.
We also offer Sleep Dentistry if you prefer to sleep during your procedure. The local anaesthetic will also ensure the area is numb while we are completing the treatment. Your comfort is our first priority.
We want everyone to enjoy the benefits of a healthy smile without the upfront financial burden. Which is why, Your Smile Centre have partnered with National Dental Plans to offer interest-free payment options. You can have your treatment completed now and pay later with easy instalments.
We accept all major health funds and have a HICAPS on-site for fast, on-the-spot claims. If you're unsure about your insurance limits, call your insurer prior to your appointment so you understand your coverage.

Wisdom Tooth Removal Inner West Sydney, Dulwich Hill, Hurlstone Park | (02) 9558 9876