All-on-4™ Dental Implants in Inner West Sydney
Crafting New Smiles at Your Smile Centre
Have you been considering what your options are to rebuild your entire smile? If you have very few healthy teeth remaining, a complete All-on-4 prostheses with our highly skilled dentists may be the best solution.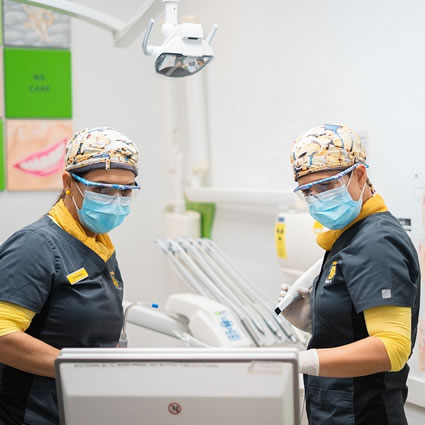 What Is All-on-4 Treatment?
Unlike having individual implants to replace each of your missing teeth, an All on 4 treatment replaces all of your upper or lower teeth at one time, with a permanently fixed denture.
Only four implants are needed to firmly support the entire prosthesis, hence the name "All on 4″. Its slim design resembles that of an extended bridge more than a conventional removable denture.
Benefits of wearing an All-on-4 denture include:
A permanent denture solution that never comes out of place
Greater freedom to enjoy the foods that you love
Increased ability to speak with confidence in front of others
Freedom from sore spots (common with removable dentures)
Increased bone health
Are You a Candidate for Implant-supported Dentures?
Multiple missing teeth can cause a collapse of your facial profile and jaw bone. As long as adequate bone is available, our trained All-on-4 dentists can accurately place the implants in such a way where the fixed prosthesis will never rock or shift out of place.

All-on-4™ Dental Implants Inner West Sydney, Dulwich Hill, Hurlstone Park | (02) 9558 9876