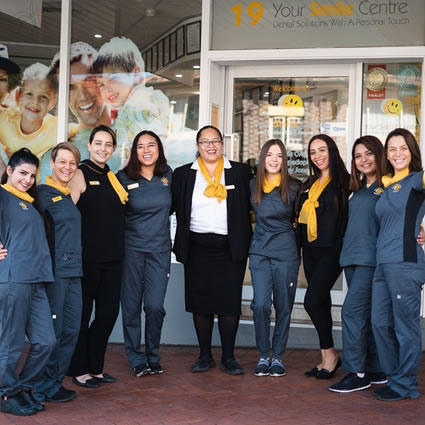 About Your Smile Centre
Discover Customised Care at Your Smile Centre
For over three decades, the skilled Inner West Sydney dentists at Your Smile Centre have striven to change the view of patients from "hate coming to the dentist" to "like coming to the dentist".
Established in 1989 by Dr. Frank Papadopoulos, Your Smile Centre was taken over by sisters Dr Gordana Stevans and Dr Gabriela Cvejoska. They were later joined by Dr Alan Truong and Dr Falguniba Rana.
Our team of four dentists and one visiting dentist, delivers comprehensive oral health services in a highly gentle manner.
We Listen, We Comfort, We Care.
Your overall wellbeing is our main concern.
Our highly experienced dentists focus on your oral health concerns and personalise the experience to meet your needs. In certain cases, this means implementing comfort – enhancing procedures like oral conscious sedation, nitrous oxide or IV sleep dentistry.
Let us know how we can help your visit be one that you actually look forward to.
MEET OUR DOCTORS

You Decide What to Do Next
Customised treatment plans will outline the specific details and costs related to the treatment plan that you are interested in. It is always up to you to choose whether or not to proceed with a particular type of procedure. You will never feel forced into accepting treatment that you don't want. We will provide you with the information that you need to make an educated decision about your care.
Dentistry for Every Age
Our dental practice offers services to individuals at every stage of life. As our community continues to grow, you'll find a place for your entire family (including young children) here in our practice.
We want to help you to:
Keep your smile healthy for life.
To give you your smile back, no matter what oral health issues you've experienced in the past.
To give you the smile that you have always wanted to have.
That's why we provide a variety of services that can be tailored to your concerns, priorities and budget. Here are some examples:
Working professionals and families like yours often have busy schedules. Your Smile Centre provides flexible hours. We are open late and on Saturdays. Give us a call or book online today!

About Your Smile Centre | (02) 9558 9876