White Fillings in Inner West Sydney
During your comprehensive exam at Your Smile Centre, one of our skilled family dentists will thoroughly assess each of your teeth and existing dental restorations. Should your exam or diagnostic X-rays reveal the presence of tooth decay, we will review all viable options that are available to help you regain your optimal dental health.
It may be that you could benefit from improved oral hygiene and supplemental fluoride. Or, a restorative filling may be necessary.
Types of Dental Fillings That We Offer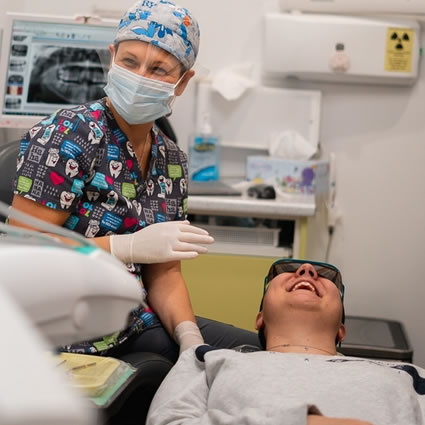 Depending on the size of your cavity, our professionals can restore your tooth with a white or porcelain filling.
White resin fillings are preferred over traditional mercury fillings because of their minimally invasive nature. Instead of being wedged into place by having a larger portion of tooth cut away, the resin bonds naturally to your enamel, reducing its likelihood of breaking under pressure. This seal also prevents bacteria from leaking in around the margin of the restoration, limiting the chance of recurrent decay and allowing the filling to last longer.
Porcelain fillings are used when a larger area of the tooth is damaged but otherwise structurally healthy. They are custom-made in a lab, similar to how crowns are designed.
What About Metal Fillings?
Old amalgam (metal) fillings have a tendency to gradually contribute to the tooth cracking apart over time. They also require that healthy tooth structure is removed to keep the filling in place. If you have an old mercury filling that needs to be changed out, a porcelain filling or crown may be your next step.

Dental Fillings Inner West Sydney, Dulwich Hill, Hurlstone Park | (02) 9558 9876