Meet Dr Gabriela Cvejoska, Master of Dentistry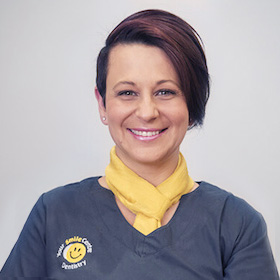 I graduated dentistry in 2005 in Plovdiv, Bulgaria. My dental degree includes all aspects of medicine. In 2011, I completed the ADC extensive examination process, in order to become fully registered to practice dentistry in Australia. I joined Your Smile Centre the same year.
I firmly believe in the importance of continued education and recognise that dental practice and technology are constantly changing. I enjoy further developing my knowledge and look forward to keeping up with the breakthroughs in treatment and new technology.
Becoming a dentist was so natural to me, it seemed like dentistry was the only profession for me. Proudly following in the footsteps of my sister Dr Gordana, I was committed to providing the same care and compassion and helping people to get the smile they have always wanted.
Areas of Interest and Expertise
I enjoy all aspects of dentistry and work happily with all patients. My favourite area of practice is early orthodontics, where I take joy in seeing the magical transformation in confidence when children and young people achieve a beautiful smile.
Making Dentistry Postive
I am also passionate about showing people that visiting the dentist can be a positive or even fun experience. Many people have negative experiences of dentistry throughout life and, at Your Smile Centre, we strive to take away any sense of anxiety and trauma people associate with dental care. Following my own early negative dental experiences, I promised myself that I would be a different kind of dentist and believe that I demonstrate this with every patient I see.
In 2012 my sister and I were very proud to buy Your Smile Centre and turn it into the family run business it is today.
Your overall wellbeing is our main concern and your lifetime dental and oral health is our goal.
Away From the Office
I love live music, travel and spending time with family and friends. I am a member of the Australian Dental Association and the Australian-Macedonian Humanitarian organization, St. Archangel Gabriel.
Thank you for investing your time in visiting our web site. We look forward to meeting you and helping you to understand your options to address your concerns.

Dr Gabriela Cvejoskan, Dentist | (02) 9558 9876