Oral Surgery in Inner West Sydney
Wisdom Teeth and More
Do you feel like your smile needs to be improved? At Your Smile Centre, our highly experienced dentists are here to help you change that.
We'll provide you with the information that you need to make an educated decision about your oral health. Your visit with us includes reviewing what's going on with your smile, options available to help, how those choices can impact your overall health at the end of the day and what may happen if you choose to wait and not do anything just yet.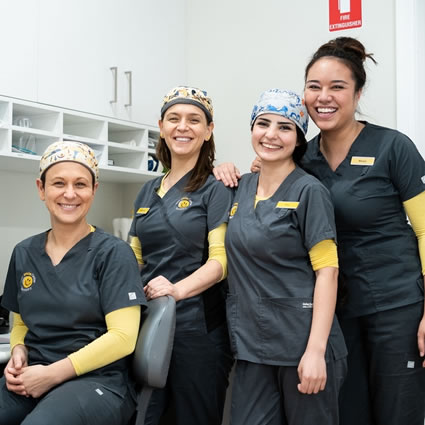 Types of Oral Surgery Services That We Provide
Depending on your specific condition, there are three types of surgery that we provide on a routine basis in our practice:
Tooth Extractions
Severely decayed or cracked teeth may be past the point of restoring with a root canal or crown. Removing the tooth could be the first step to smile rehabilitation.
Wisdom Teeth Removal
Impacted wisdom teeth (third molars) can cause pain, swelling and even damage to the adjacent healthy teeth. Proactively removing them can help to prevent additional complications.
All-on-4™
Do you need to replace all of your teeth at one time? An implant supported All-on-4 denture offers greater stability and long-term comfort.
Keeping You Comfortable During Surgery
Our understanding, seasoned dentists make every effort to ensure your comfort and peace of mind during oral surgery procedures. As we explain the procedure to you and thoroughly numb the area being worked on, you can feel confident that we've helped even the most phobic of patients remain relaxed. We want you to feel good about your experience with us! Happy gas is also available.

Oral Surgery Inner West Sydney, Dulwich Hill, Hurlstone Park | (02) 9558 9876