Protective Dental Crowns in Inner West Sydney
Restorative Treatments at Your Smile Centre
At Your Smile Centre, crowns are sometimes the only option that our skilled family dentists have available to preserve a badly damaged or decaying tooth. If there is not enough enamel to support a filling, a crown is placed over the tooth to prevent it from splitting.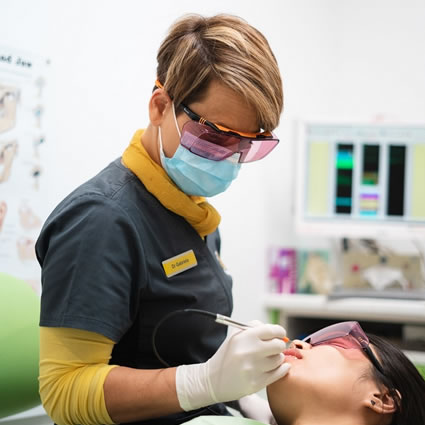 Crowns act almost like a helmet for a tooth, protecting it all the way up to the gums so that cracks do not lead to tooth loss. Otherwise, the fractures would likely continue until the tooth needs to be pulled. However, we can only place a crown if there is enough sound tooth structure to support it.
Types of Crowns That We Offer
Each crown is skilfully made of durable materials such as zirconia or porcelain, for optimal strength and aesthetics. They are completely metal free. Gold crowns are usually no longer needed for load-bearing teeth, as Zirconia is so durable. Both options are custom matched to the shade of your neighbouring teeth.
Your Smile Centre uses only locally based labs, so nothing is sent overseas. When everything is made closer to home, it reduces the length of your treatment and improves the overall quality of the care that we can provide.
---
Do I Need a Crown?
There is no one-size-fits-all option when it comes to restoring our patients' smiles. Our accomplished dentists will thoroughly examine your tooth and take a series of X-rays to assess the extent of your needs. Should a crown be recommended, we will share our findings with you and outline each cost involved, so that you can make an informed decision about your care.

Dental Crowns Inner West Sydney, Dulwich Hill, Hurlstone Park | (02) 9558 9876