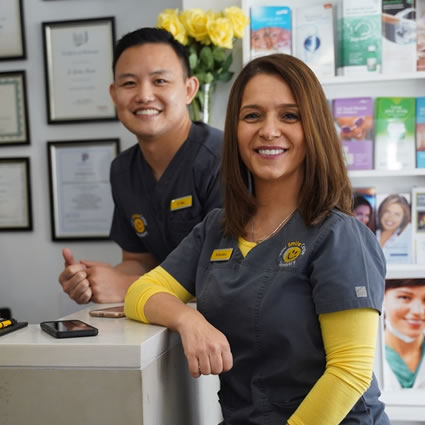 Your Smile Centre Services
Care Options in Inner West Sydney
To our accomplished dentists, oral healthcare is about sharing information with our patients and allowing them to choose the option that's most appropriate for their smile.
At Your Smile Centre, each time we find an area of concern related to your teeth, we present our findings and recommendations to you. It's up to you to decide whether or not you should choose one option over another.
There are no hidden fees or terms that are hard to understand. We make having a healthy smile simple; we'll never try to force you into treatment that you don't want.
Types of Dental Treatment Available
Here are some of the options that we make available to you and your family:
What Happens if I Delay Treatment?
There's always a risk of infection travelling from one tooth to others or even into the bloodstream. While dental treatment can sometimes be avoided or delayed, it is not always the best thing for your overall health. Please do not hesitate to let our highly experienced dentists know if you have any questions about the options available to you.
See How We Can Help You Today
Should the cost of your treatment be a concern, please let Your Smile Centre know. We will arrange to work out a financing plan so that you can access the care that you deserve. Book online today! We're open late and on Saturdays.
CONTACT US

Your Smile Centre Services | (02) 9558 9876