Get a Sensational Smile and Save!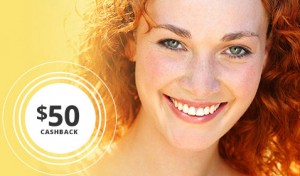 Do you avoid having your picture taken or refrain from smiling due to tarnished or discoloured teeth? We can help with our professional teeth whitening services at Your Smile Centre. We use Philips Zoom! professional teeth whitening due to the brilliant results it gets for patients.
Same-day, In-chair Whitening
In just one appointment, you can enjoy significantly whiter teeth (up to eight shades brighter!) thanks to our professionally applied Philips Zoom! In-Chair Whitening treatment. The high-grade whitening gel is applied to your teeth and exposed to a bright light to accelerate the release of stain particles.
If you choose in-office whitening, we will include a home whitening kit for you to touch up your results throughout the year. Plus, we will provide refill whitening gel at your six-month check and clean.
Visit our exclusive offers web page for more details on our current offers on whitening treatments.
Take-home Professional Whitening Kits
If you favour the convenience of whitening your teeth at home, our Philips Zoom! take-home whitening kits are ideal. We will make an impression of your teeth to create custom-fitted bleaching trays that you can easily use on your own. When filled with our prescription grade whitening gel, you'll see professional results in just 10 to 14 days.
Claim Cash Back From Zoom!
From now until 28 February 2019, you can claim $50 cash back directly from Philips. Here's what you need to do:
Schedule a consultation with one of our dentists to determine if you are eligible for a whitening treatment. If your dentist gives you the go-ahead to proceed, schedule your Philips Zoom! In-Chair Whitening treatment.
At your whitening appointment, your dentist will provide you with a special code for the promotion.
At the conclusion of your Philips Zoom! In-chair Whitening treatment, visit www.philips.com.au/zoomcashback.
Enter your details on the online form including the code that you were provided at your treatment. Then, submit your details.
Philips will send you the $50 cash back via cheque to the address you provided on the form. You should expect to get the cheque within 3-4 weeks of Philips receiving your claim.
Achieve a gleaming bright smile quickly, safely and effectively with Philips Zoom! professional teeth whitening. Contact us today to book an appointment!