Get Your Best Smile with Your Smile Centre
Having a full set of bright teeth is life enhancing! It not only enhances your looks but also your health; providing you the ability to maintain a balanced diet.
At Your Smile Centre, our aim is to help you achieve a healthy smile that you can wear for years. Tooth loss is detrimental to your long term dental and overall health, however we have the ability to restore and enhance your teeth through our Dental Implant options.
Don't Let Tooth Loss Get The Better Of Your Health Book Your Free Consultation Today!
Call (02) 9558 9876 Now to Discuss Dental Implants
Flexible Payment Plans Available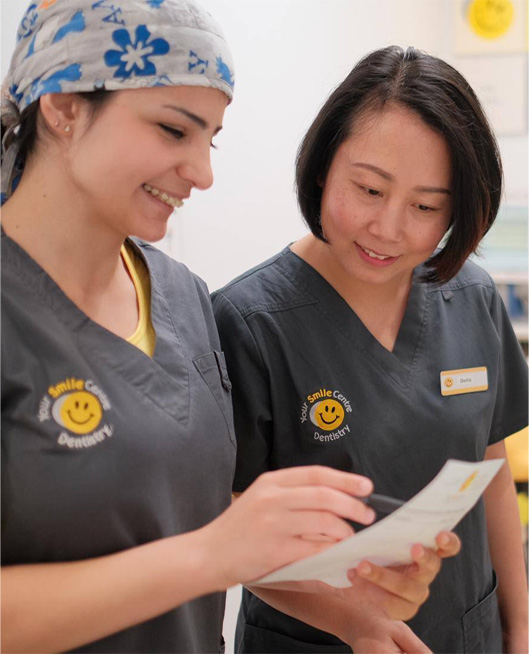 Dental Implants – Your Options
Dental Implants are artificial tooth roots placed into the jaw where the tooth root used to be located. They fuse with the bone and serve as a strong anchor to support replacement teeth. They are strong and designed to last a long time.
Your Smile Centre Depending on the number of missing teeth you have, you may need as few as four implants to support a full mouth prosthesis. At Your Smile Centre, we offer the following dental implant options:
Crown
Bridge
(All-on-4™)
(All on 6 or 8)
Our skilled dental implant providers can provide you with a choice between Traditional Dental Implant technology or more up-to-date options such as DIOnavi EcoDigital Implant Procedure which is non-invasive and minimises healing time.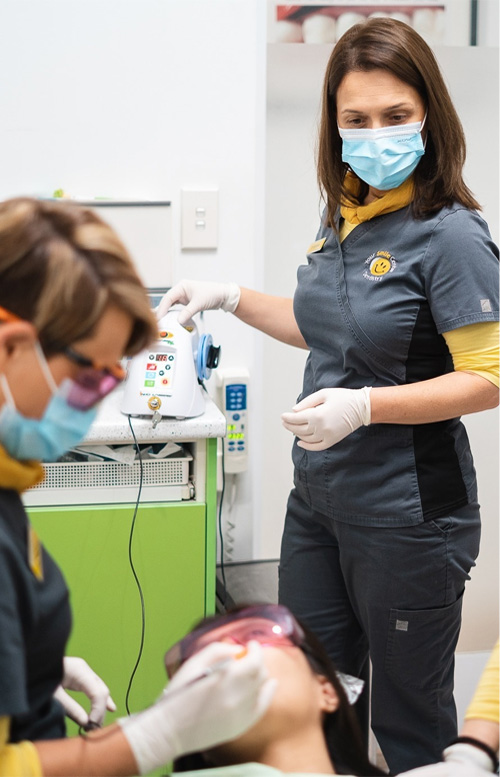 The DIOnavi EcoDigital Dental Implant Difference
Traditional dental implants techniques require a surgical incision (cutting and sutures). Complications from surgical incisions like bleeding and swelling can make implants a no-go for people with health conditions like high blood pressure, diabetes, or heart disease. Older adults can also face roadblocks with conventional implants. Apart from these factors, there are also recovery times to consider.
With DIOnavi dental implants, the difference are:
No surgical incisions
No sutures
Holes are very small and done through computerised surgical guide
Procedure is comfortable
Quick Recovery Decreased chances of complications
The procedure itself is precise and fast, taking just minutes to perform – meaning you can have your healthiest smile in no time at all!
Dental Implants & Payment Plans – A Simple Way To Make Your Healthiest Smile Affordable
At Your Smile Centre we understand that finances can sometimes get in the way of achieving your dental goals. This is why we provide flexible payment plans in-practice or through National Dental Plan (NDP) which doesn't incur any interest. So, if finances are a concern for you, come talk to our friendly team and see what we can offer you!
For health fund members, we aim to make the process as seamless and easy as possible by offering instant rebates through our HICAPS machine.
So, don't put off achieving your healthiest smile – Call (02) 9558 9876 now and see how Dental Implants can improve your life!
We Accept All Private Health Funds Interest Free Payment Plans Available
BOOK YOUR FREE CONSULTATION ONLINE


Get in touch with us!
19 Crinan Street, Hurlstone Park, NSW 2193 | (02) 9558 9876
Office Hours
Tuesday
9:00 am – 5:00 pm
Wednesday
9:00 am – 5:00 pm
Thursday
9:00 am – 5:00 pm
Saturday
8:00 am – 2:30 pm
Inner West Sydney Dentists serving Hurlstone Park, Dulwich Hill, Marrickville, Canterbury, Earlwood, Ashfield and surrounding suburbs